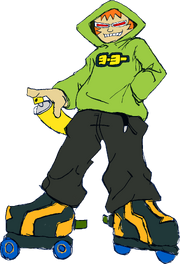 Yoyo is a character in Jet Set Radio and Jet Set Radio Future. In Jet Set Radio Future, DJ Professor K describes him as "a guy who'll blow your mind with his silver tongue".
TUNE INTO JET SET RADIO LIVE
Wanna Help JetSetRadio Wiki, Click here to create Pages about the Jet Set Radio Franchise

Notice: We are not affiliated with SEGA and All Trademarks and Copyrights of Jet Set Radio belongs to SEGA. Support SEGA by Playing some Sonic the Hedgehog or NiGHTS or any SEGA Game. The Site falls under Fair Use.