Jurassic World: Dominion Dominates Fandom Wikis - The Loop
Play Sound
Gum (ガム, Gamu) is a 17 year-old Rudie living in Tokyo-to. She is the one of the main playable characters and overall deuteragonist in the Jet Set Radio series. She, alongside Corn and Beat, is an original member of the GG's, along with being a loyal friend to her allies.
Gum has a counterpart in Jet Set Radio Future.
Appearance
Gum wears a light grey sundress over a long-sleeved green striped top. Her name is displayed in green Japanese katakana (ガム) horizontally across her chest and on her skates. She wears light cool grey gloves with an orange four-pointed star emblem on them. She also wears a dark grey helmet with a white stripe down the middle, orange dots resembling eyes on the back and front, and the four-pointed star emblem encased in white on the 'ears'. Her blonde hair pokes out from the front, curling under her eyes along her cheekbones, and out the back down her neck. Her rollerblades are dark and light grey with yellow wheels and green detailing.
In game, she has no katakana on the front of her dress and instead has her Japanese name (ガム) spelled sideways in green down the back. Additionally, she has red thrusters on her skates and she wears a gray wrist device on her left arm.
Some official art depicts her with green katakana spelling her name (ガム) tattooed on the front or inside of her left thigh.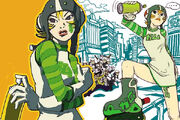 Personality
Gum is described as a perverse character who likes chewing gum. Her high Graffiti stat implies a natural affinity for art. Her willingness to show Beat the game's controls implies she is quite friendly.
She is an upbeat, cocky, sarcastic, and charismatic teenager who has a talent for graffiti art. She is very loyal and will treat her allies and friends with the upmost respect. On the other hand, Gum is considered to be a fugitive criminal, due to her crimes of repetitive harassment, vandalism, destruction of both public and private property, and reckless endangerment. Gum also enjoys art and roller skating when she gets the chance. Unlike Corn and Beat, Gum is more restless and self-determined.
Trademark Graffti
GUM - Pop!

Gum's Small Graffiti. It's her name in green bubble lettering with an orange glow.
GUM - Minty Cool Flavor

Gum's Large Graffiti. It's her name in erratic two-tone green lettering over a blue background with smaller tags littered around it.
EDGE - Off the Edge!

Gum's Extra-Large Graffiti. It depicts the word 'Edge' in exaggerated blue bubble lettering resembling faces with a smaller red tag on the final E.
Role in Jet Set Radio
At the beginning of the game in Shibuya-Cho's Bus Terminal, Gum first gives a series of challenges for Beat to complete in order to teach him the ways of the street and test his skills. After completing them, she deems him "not bad" and agrees to join his newfound gang, the GG's. She hangs around the steps leading to the car near Piranha and Slate in the Garage when not being played as.
At the start of Chapter 2 in the International versions, she gives Cube a challenge to prove she is worthy of joining the GG's. When Cube explains the situation regarding Coin to Gum, she responds that she has no idea who that is.
In the Jet Crush race for Kogane-cho, Gum is the chosen CPU competitor.
Other Appearances
Gum is a playable character in this Sega crossover tennis game. Her design is taken from the original Jet Set Radio. Gum's Superstar move has Tokyo-to's Police Force storm in on the tennis court, running over her opponent.
Main article: Gum (SEGA Superstars wiki)
Gum is a playable character in this sequel to Sonic and Sega All-Stars Racing, alongside Beat. She has a green and white bike similar to Beat's one. Her All-Star move makes a broken heart appear behind her. This could be a reference to the description of her, said during her introduction in Jet Set Radio Future by Dr. Professor K. In this game, she has a green tattoo on the left leg, saying "Gum" in Japanese, which is in reference to the same tattoo that is shown in her original Jet Set Radio appearance, though the tattoo was originally placed closer to her inner thigh. Sumo Digital most likely moved the tattoo to avoid making Gum seem overly sexualized. Her All-Star theme is a remix of Let Mom Sleep.
Gum also appears on an unlockable sticker in this game, obtained for winning an event in the Shibuya Downtown stage while playing as her.
SEGA Heroes
Gum appeared as a playable rare green hero in the canceled mobile game, SEGA Heroes. She was released to the game on October 15th, 2018 and was featured on the Beyondering selection, and on the main menu heading in 2018 and early 2019.
In-Game Statistics
Jet Grind Radio
| | |
| --- | --- |
| Power | Average |
| Technique | Above Average |
| Graffiti | Very High~ |
An underline notates this rudie's highest skill.
~ She can hold a maximum of 15 Spray Cans. Her Graffiti Challenge begins with 180 Counter-clockwise then 180 Clockwise.
She does the Rock Mac, Royal, and Soul Grinds. Her backwards Grinds are the Ally-oop Makio and Ally-oop Miz.
Her Air tricks are the Judo and Front Flip. Her Half-Pipe Air tricks are the Back Flip 180 and Method 340. Her backwards Air tricks are the 360 and Method Back Flip. Her backwards Half-Pipe Air tricks are the Judo Back Flip 180 and Shifty 180.
Gallery
Trivia
The song "Magical Girl" by Guitar Vader seems to be associated with Gum.
There is fan speculation that Simca from the anime Air Gear is based off of Gum.
Like most other characters, Gum's voice actress was never specified in the end credits.
She has similar stats as Yo-Yo, but her Power stat is a tad higher, and her Technique stat is a tad lower.
In Gum's textures, it's revealed that she has Beat's hair textures under her helmet. This is presumably to save time on texturing.